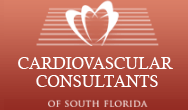 At Cardiovascular Consultants of South Florida our cardiologists have one goal: keeping your heart healthy. It starts with understanding and controlling your risk factors for coronary artery disease and making lifestyle changes where necessary. Where disease occurs we offer a comprehensive team of Cardiologists, Vein and Vascular specialists, and Electrophysiologists to provide you personalized care. Because it makes sense to consider the heart and blood vessels as one system, our Vein and Vascular program emphasizes prevention and non-surgical intervention for peripheral vascular disease, blood clots in the legs and other organs.
Our cardiac electrophysiologists (the heart's electrical system) focus on cardiac pacing, implantable defibrillators, and the diagnosis and treatment of syncope. We also specialize in treating varicose and spider veins. There is minimal to no scarring and most procedures are done in less than one hour. Visit www.NoMoreUglyLegs.com.

The Cardiologists at Cardiovascular Consultants take care of more heart patients than any other group in South Florida. From advanced diagnostic testing to balloon angioplasty, treatment of atrial fibrillation, to the latest in non-surgical treatment of Varicose Veins, our twenty-four Board Certified Cardiologists and Vein and Vascular specialists provide comprehensive care to over 100,000 patients. You can trust the health of your heart and vascular system in our hands.
Susan B. Fox, D.O.
Dr. Susan Fox received her Doctor of Medicine from Nova Southeastern College of Osteopathic Medicine. She completed her residency in Internal Medicine and her fellowship in Vascular Medicine at The Cleveland Clinic in Cleveland, Ohio. Before moving to Florida, she practiced as a vein and vascular expert at University Hospitals of Cleveland, and was on the teaching faculty at Case Western Reserve University. Dr. Fox has been featured on Channel 10 News and several other news programs. She's written articles and lectured extensively on varicose veins as well. Dr. Fox is Board-Certified in Vascular Medicine.
OFFICE BASED PROCEDURES:

Electrocardiogram (EKG)
Treadmill Test (Exercise Stress Test)
Nuclear Imaging Stress Test: SPECT Cardiolite or Thallium
Radionuclide Angiography: MUGA Scan
Echocardiogram
Stress Echocardiogram
24-hour Holter Monitor and Event Monitors
Signal-Averaged EKG
Non-Invasive Vascular Evaluation - 1: Ultrasound and Doppler (Duplex)
Non-Invasive Vascular Evaluation - 2: Segmental Pressure Testing
Vasotec Renogram
Pacemaker and Defibrillator Follow-up
Enhanced External Counterpulsation (EECP)
Vein Services ( Endovenous Laser, Phlebectomies, Sclerotherapy, Ultrasound-Guided Sclerotherapy )

OUTPATIENT PROCEDURES:

Tilt Table Testing
Cardiac Catheterization (Coronary Angiography)
Peripheral Angiography
Carotid Angiography

HOSPITAL BASED PROCEDURES:

Cardiac Cath and Percutaneous Transluminal Coronary Angioplasty ("PTCA")
Coronary Atherectomy
Coronary Stents
Intravascular Ultrasound ("IVUS")
Intra-Aortic Balloon Pump (IABP)
Peripheral Transluminal Angioplasty ("PTA"), Atherectomy and Stents
Permanent Pacemaker Implantation
Electrical Cardioversion
Electrophysiological Studies (EPS)
Radiofrequency Ablation
Implantable Cardioverter-Defibrillator ("ICD")
Balloon Valvuloplasty
Standard Coronary Artery Bypass Surgery (CABG)
Newer Modalities for Coronary Artery Bypass Surgery: "MIDCAB" and "OP-CAB"
Heart Valve Replacement