The Bellagio Vein Clinic opened its Mesa Arizona facility in October of 2010. Our staff is dedicated to treating patients with varicose vein disease. We feel many of these patients would benefit from the latest developments in varicose vein care. We created a destination center for varicose vein therapy and Medical Spa services. The Bellagio Medical Spa offers other aesthetic services designed to enhance the client's appearance.

STATE OF THE ART FACILITY

The clinic was designed specifically for the type of procedures being offered. When you come to the Bellagio Vein Clinic our goal is that you will feel relaxed and pampered. We have created a spa-like atmosphere yet maintain the highest level of safety and health standards.

HIGHLY-TRAINED STAFF

Our treating personnel not only meet but exceed all training requirements for the services they provide. Each of our clinicians has been educated in the medical field and has an understanding of the pathophysiology of what they do. When you have a consult with us, we are not trying to sell you a treatment but instead we will offer you options on how to best take care of yourself. Much of our success is due to combining the right person with the right treatment. Appropriate screening is key to achieving a high satisfaction rate. We have set a high standard for our staff. We feel that is your best guarantee for safe and appropriate care.

OUR PROMISE TO YOU

We recognize that you have a choice in where you receive your vein and aesthetic care. We guarantee our staff will provide you with realistic expectations and appropriate recommendations prior to your care, safe and professional treatment during your care and will be there to address any concerns you have after your care. That is our promise to you.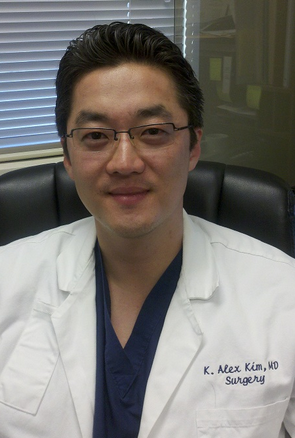 K. Alex Kim, MD

EDUCATION

New Jersey Medical School, University of Medicine and Dentistry of NJ

Newark, NJ, Doctor of Medicine, M.D.

Vice-President of AMA-NJMS Chapter

University of Pennsylvania, Philadelphia, PA
M.S. Medical Sciences
Cornell University, Ithaca NY

B.A. in Economics, Minor in Mathematics

Deans List, Cornell Crew Team

SURGICAL TRAINING

Wayne State University, Detroit Medical Center

Vascular Surgery Fellowship, Detroit, MI



Temple University Hospital

Advanced Laparoscopic Bariatrics Fellowship, Philadelphia, PA

Mount Sinai School of Medicine, Morristown Memorial Hospital


General Surgery Residency, Morristown, NJ

Drexel University, Graduate Hospital

General Surgery Internship, Philadelphia, PA

WORK EXPERIENCE

Advanced Minimally Invasive Surgical, LLC, Chandler, AZ

Owner

IDE, NY, NY

National Advertising Agency

CEO, Founding Partner

Andersen Consulting, NY, NY)

Analyst for Metro New York Process Competency Group

Business Consulting, Technology, and Strategy

Cornell University Medical College, NY, NY

Data Control Coordinator for In-Vitro Fertilization Program

PROFESSIONAL MEMBERSHIPS & POSITIONS

American College of Surgeons

Society of American Gastrointestinal and Endoscopic Surgeons

American Medical Association
Bellagio Laser Vein treatment eliminates unsightly varicose veins with no hospital stay, minimal-to-no scarring, no lengthy recovery and minimal-to-no side effects. In less than an hour, you can be free from bulging, twisted varicose veins and back to enjoying your everyday activities. The Bellagio Laser Vein Surgery is safe, fast, and effective. With Bellagio Laser Vein Surgery treatment you can show off your legs again.