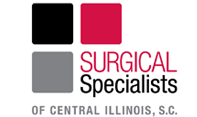 Deciding where to seek surgical treatment can be difficult, and we know that you have many options. The physicians and staff of Surgical Specialists of Central Illinois are committed to providing you with prompt, compassionate, state-of-the-art surgical care in the local hospital or surgical center of your choice.
When you choose Surgical Specialists of Central Illinois, one of our highly-trained and experienced physicians will meet with you to evaluate your condition, discuss your treatment options, make recommendations, answer all of your questions, and provide you with the highest-quality surgical care. We believe in a team approach to patient care.
Everyone on our staff will work diligently to ensure that your care is well-coordinated, that you are informed and at ease, and that you have the best experience — and the best outcome — possible. Thank you for placing your trust in Surgical Specialists of Central Illinois.
Jeffrey D. Trachtenberg, M.D.
Specializing in Vascular Surgery

Dr. Trachtenberg is a board certified general and vascular surgeon who joined Surgical Specialists of Decatur in 2001. He specializes in the medical, surgical and endovascular treatment of vascular disease including the minimally invasive treatment of aneurysms, peripheral arterial disease, venous disorders and carotid disease.

From 1997 to 2001, Dr. Trachtenberg was Assistant Professor of Surgery at the University of Pittsburgh where he maintained a clinical vascular surgery practice and a basic science research lab. During this time he participated in the training of medical students, surgical residents and fellows, and served as primary investigator for several national clinical trials of novel experimental vascular therapies.

Dr. Trachtenberg graduated summa cum laude with a Bachelor of Sciences degree in Chemistry from Brooklyn College in 1986. He attended medical school at the State University of New York and graduated summa cum laude in 1989. He completed his general surgical residency and two years of basic vascular research in 1996 at Barnes Hospital in St. Louis. He subsequently completed a vascular surgery fellowship in 1997, also at Barnes Hospital in St. Louis. He has authored numerous papers and book chapters related to vascular disease.

Dr. Trachtenberg is a member of the American Medical Association, the American College of Surgeons, the Society of Vascular Surgery, the Peripheral Vascular Surgical Society, and the Midwest Vascular Surgical Society. He is active in these societies, working to bring vascular screening programs to the residents of Decatur. He continues to participate in several clinical trials focused primarily on the treatment of peripheral arterial disease and carotid disease.

Dr. Trachtenberg is married with two step-daughters and resides in Forsyth. He currently practices at both St. Mary's Hospital in Decatur and Decatur Memorial Hospital.