Welcome to Iron Mountain Vein!
Iron Mountain Vein is a specialty clinic created exclusively for the treatment of lower extremity venous insufficiency. We treat your painful and disfiguring varicose veins, the kind that keep you from feeling and looking your best.

Insurance Plans

We participate in the insurance plans listed below. If you are not sure if your insurance company is associated with one of our approved plans, please contact us for further information.
Aetna
Blue Cross Blue Shield
CHAMPS (Medicaid)
Cofinity
Humana
Medicare
Tricare
United Healthcare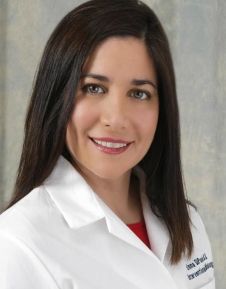 Dr. Emma DiPonio is a board certified radiologist who specializes in minimally invasive image guided techniques. She has extensive experience in vascular access treatments, and has a vast knowledge of venous insufficiency, a disorder of the circulatory system.

Dr. DiPonio is an active member of the Iron Mountain community and lives in Spread Eagle with her husband and four children. She is a proud member of the American College of Phlebology and the American College of Radiology.
Undergraduate Degree: University of Michigan, Ann Arbor, MI
Medical School: University of Michigan Medical School, Ann Arbor, MI
Residency: Michigan State University, Grand Rapids, MI
Practice Expertise: Women's Imaging and Intervention
We offer a variety of state-of-the-art services to treat your varicose and spider veins:

Veinwave
Veinwave™ is a revolutionary technique used by doctors around the world to eliminate spider veins on the legs and fine thread veins, known as telangiectasia.

Sclerotherapy of Variocse Veins and Spider Veins
Sclerotherapy is a minimally invasive treatment used to treat varicose and spider veins. The procedure involves the injection of a solution directly into the affected veins, causing them to shrink and eventually disappear.

Endovenous Ablation of Varicose Veins
Varicose vein treatment, or endovenous ablation, is a minimally invasive treatment that uses radiofrequency or laser energy to cauterize (burn) and close abnormally enlarged veins in the legs, a condition called varicose veins.

Phlebectomy of Varicose Veins
Phlebectomy is a minimally invasive procedure used to remove varicose veins on the surface of the leg. This is usually done in a physician's office using local anesthesia.