Michigan"s premier varicose and spider vein treatment centers.
At Miller Vein, we specialize in vein disorders. That's it. Only veins. We don"t do botox, or implants or plastic surgery.
We've dedicated our careers and our treatment centers to the most advanced diagnosis and treatment of vein disorders like varicose and spider veins, and we apply our talents with one simple goal in mind: Helping patients free themselves from the chronic and often debilitating leg pain that accompanies those conditions.
By focusing strictly on veins day in and day out, our highly trained medical staff are vein experts. Regular, extensive training and the most advanced laser and imaging equipment make it possible for us to apply the latest innovations in technology, devices, and procedures to make your legs feel good, and look good as well. You'll rest easy knowing our friendly, knowledgeable staff have seen it all, and can immediately respond to your fears and concerns. At Miller Vein you may walk in with questions, but you will always walk out with answers
Jeffrey H. Miller, M.D.
Interventional Radiologist and Phlebologist

Board certified in Interventional Radiology and Phlebology, Dr. Miller is also a diplomat of the National Board of Medical Examiners as well as the American Board of Radiology. He holds a Certificate of Added Qualification (CAQ) in interventional radiology. Increasingly, medical offices are offering varicose vein and spider vein care, but none can match the experience, knowledge or expertise of Miller Veins' Jeffrey H. Miller, M.D.
Since 1994, Dr. Miller has been performing complex image-guided endovascular procedures. His experience includes service as a director of the Vascular and Interventional Radiology Department at Oakwood Hospital and Medical Center in Dearborn, Michigan. And, as of January, 2008, Dr. Miller was one of only two American Medical Association registered phlebologists (physicians who specialize in vein disease) in the state of Michigan.
Born and raised in Metro Detroit, Jeffrey H. Miller, M.D., earned his Bachelor of Science degree at Michigan State University where he graduated with high honors. He then attended Wayne State University Medical School and received his M.D. with high distinction. In a class of approximately 250 students, he was one of only 15 to achieve honors each year of medical school. He received his radiology training at William Beaumont Hospital where he served as a chief resident. He then did a fellowship in interventional radiology, which has been his professional focus ever since.
Awards and Recognition:
Dr. Miller has received many honors and awards throughout his training and professional career. HOUR Magazine named him one of "Detroit's Top Docs." A member in many honor societies, Dr. Miller was accepted to Phi Beta Kappa and Phi Kappa Phi as an undergrad and to Alpha Omega Alpha during medical school. He received the Faculty Teacher of the Year Award multiple times at Oakwood Hospital and Medical Center, as well as the Research Mentor Award. Dr. Miller has given hundreds of lectures, often speaking at national medical meetings and medical professional conferences.
Steven K. Wang, M.D.
Interventional Radiologist and Phlebologist

A native of Chicago, IL, Dr. Wang received his formal education in the Midwest. His undergraduate studies were performed at the University of Wisconsin, where he completed a double major in biochemistry and molecular biology, graduating with distinction in 1987. His medical school education was completed at the University of Illinois in 1991. It was there that his interest in the procedural care of patients began. He began his residency training in general surgery, but decided to change his focus to more minimally invasive procedures using imaging guidance (ultrasound, CT scan, MRI, X-ray). He completed his residency in Diagnostic Radiology and fellowship in Interventional Radiology in 1997.

Since his residency training, Dr. Wang's specific area of interest has been venous disease. He was the first physician to bring minimally invasive endovenous treatments for varicose veins to William Beaumont Hospital, first with radiofrequency technology, after its initial FDA approval, then with laser technology. His expertise in the treatment of complex vascular diseases is well known to other physicians. Over the past decade, Dr.Wang has lectured extensively and published multiple articles in the field of interventional radiology. He has trained many physicians in the treatment of varicose veins and other complex venous diseases. He was the fellowship director and director of resident education in Interventional Radiology at William Beaumont Hospital and has been voted Teacher of the Year. Dr. Wang has also served on numerous committees with a focus on quality assurance and patient care, including serving on the Peripheral Vascular Interventions Advisory Committee of the Blue Cross/Blue Shield Cardiovascular Consortium, a multi-center, state-wide initiative to improve patient care in Michigan.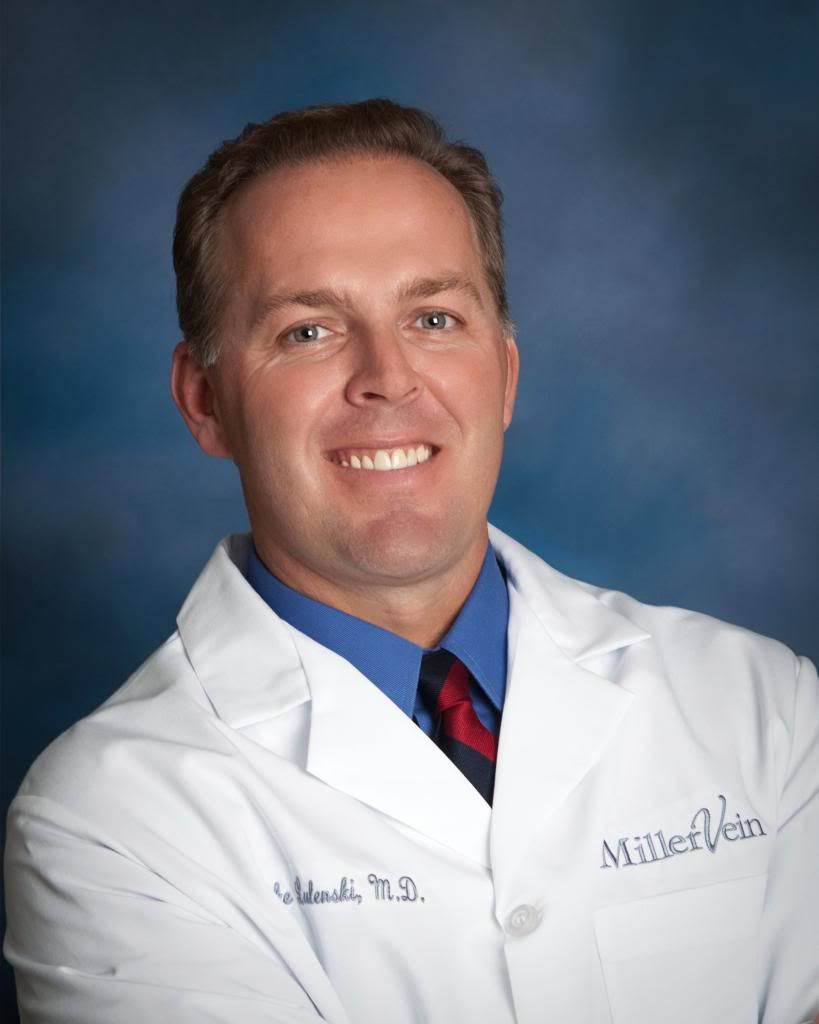 Michael E. Lulenski, M.D.
Interventional Radiologist

Michael E. Lulenski, M.D. joined the Miller Vein team of vascular experts in July, 2012. During his residency program, Dr. Lulenski trained under the tutelage of Jeffrey H. Miller, M.D. "He was the best resident in IR I every had! I could trust him to perform procedures from the very beginning to the completion of a case," says Dr. Miller.
"Dr. Lu," as patients know him, received his bachelors in science degree at the University of Arizona in 1992 graduating with honors. Dr. Lulenski graduated medical school in 1997. To broaden his experience, he spent his 3rd year of medical school studying at Waterford Regional Hospital in Ireland and his 4th year at Beth Israel Hospital in New York City. In 2002 he completed his residency at Oakwood Hospital and Medical Center in Dearborn Michigan, where he was awarded for outstanding patient care. Following residency, Dr. Lulenski's interest in vascular care blossomed as he completed his fellowship in Interventional Radiology in June 2003 at Tampa General Hospital, Tampa, FL. In 2004, prior to joining the elite group of physicians at Miller Vein, Dr. Lulenski was one of the founders of Legacy Vein Clinic, located in South Bend, Indiana. While there, he was the first in that region to perform endovenous thermal ablation.
"When I heard he wanted to move back to Michigan, I had to offer him a job right on the spot, and I have been thrilled with his performance. More importantly, his patients love him! This makes sense since he has been running a vein clinic for years" according to Dr. Miller.
Dr. Lulenski now serves as the medical director of Miller Vein & mdash.
Vein Treatments
The treatment of varicose veins varies from person to person. Treatment options largely depend upon the results of an ultrasound exam and include endovenous laser ablation, radiofrequency ablation, microphlebectomy, sclerotherapy, and medical compression stockings. These advanced techniques have eliminated the need for painful stripping procedures previous generations have endured.
Our services include the most current techniques for treating venous insufficiency such as endovenous thermal ablations (using the latest generations of laser and radiofrequency ablation equipment) and microphlebectomy (removal of varicose veins through tiny incisions). We also provide the latest treatments for spider veins including sclerotherapy, including Veinwave(TM) and VeinGogh Ohmic Thermolysis Systems.
Radiofrequency Ablation (RFA)
Radiofrequency Ablation (RFA) is also a minimally invasive technique for treating venous insufficiency.A small needle is placed into the affected vein using ultrasound guidance, and an FDA approved catheter (VNUS Closure ®) is placed into the vein.Subsequently, radiofrequency energy is delivered to the vein which seals it shut (ablation). Once the diseased vein is closed, other healthy veins take over to carry blood from the leg, reestablishing normal flow.This technique is virtually painless and following the procedure patients resume normal activities.
MICROPHLEBECTOMY
Microphlebectomy is a safe and effective in-office, minimally-invasive surgical procedure to treat varicose veins. Prior to the procedure, a special marker is used to note the treatment site and then the superficial varicose veins are removed under local anesthetic using a special set of tools. The leg is then wrapped, and patients walk immediately after the procedure.
SCLEROTHERAPY
Sclerotherapy is a safe procedure in which a solution called a sclerosing agent is injected into veins using extremely fine needles which cause the veins to close.The number of treatments needed differs from patient to patient, depending on the extent of the problem. The treatment sessions are performed at four to six week intervals to achieve optimal results. After the procedure, compression stockings are applied and patients can immediately walk out of the treatment center.
ULTRASOUND-GUIDED SCLEROTHERAPY
Ultrasound-guided sclerotherapy is similar to conventional sclerotherapy. Under ultrasound guidance, a needle is inserted into affected veins and a sclerosing agent is injected.Both the needle and solution can be visualized by the physician with this technique. The sclerosing agent irritates the vein wall causing it to collapse and scar down. Once the diseased vein is closed, other healthy veins take over to carry blood from the leg, reestablishing normal flow.
MEDICAL COMPRESSION STOCKINGS
Medical Compression Stockings aid the treatment of varicose veins by compressing the limb with graduated compression - strong at the ankle and decreasing going up the leg.This compression helps venous flow, and often relieves the aching and heaviness associated with varicose veins.
STRIPPING AND LIGATION
Stripping and Ligation were traditional surgical methods used to remove abnormal veins. These procedures involved making incisions that required suturing and a prolonged recovery period. This surgery often caused significant bruising, pain, nerve damage, and, in some cases, poor cosmetic results. With the current technologies available, stripping and ligation are no longer recommended.