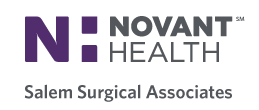 The surgeons at Novant Health Salem Surgical Associates General And Colorectal Surgery offer a variety of general and specialized surgery services, including colorectal surgery. We offer robotic surgery for both colorectal and general surgery procedures using the da Vinci Surgical System. Whether you are looking for relief from hernia pain, exploring options to eliminate hemorrhoids or confronting surgery as a part of treatment after a cancer diagnosis, Salem Surgical Associates is here for you. We aim to understand your problem, identify your options and help you choose the treatment that is right for you.
C. Ray Workman, MD, FACS, RVT (Medical Director)

Dr. Workman is a native of North Carolina having been born and raised in Charlotte. He attained his B.S. degree from Clemson University and his M.D. degree from the Uniformed Services University of the Health Sciences in Bethesda, MD. He then completed his general surgery internship/residency at Eisenhower Army Medical Center in Augusta, GA. He served in the United States Army as a general surgeon at the 121 General Hospital in Seoul, Korea before returning to Walter Reed Army Medical Center where he completed his vascular surgery fellowship. His training included intensive exposure to complex venous disease which is rare for most vascular surgery fellowships. Following his fellowship, Dr. Workman was stationed at William Beaumont Army Medical Center, El Paso, TX where he eventually served as the Chief, Vascular Surgery. He also ran an independent vein practice in El Paso. Dr. Workman joined Salem Surgical Associates, PA in Winston-Salem in 2004 after leaving the army as a Lieutenant Colonel.
Dr. Workman is board certified in vascular surgery by the American Board of Surgery. He is one of only 4 board certified private practice vascular surgeons in Winston-Salem. He and his colleagues provide cutting edge, state-of-the-art service for everything from spider veins, to varicose veins, to complex venous disorders. Dr. Workman has continued to stay focused on the latest treatments for vein disease by attending national meetings of the American Venous Forum and the Amercian College of Phlebology. He is one of very few vein experts in Winston-Salem who can offer the entire range of treatments for venous disease including endovenous techniques for complex venous ulcers and pelvic congestion syndrome.
Stephen Motew, MD, FACS, RVT

Dr. Stephen Motew is a board certified vascular surgeon specializing in treatment of varicose veins, spider veins and vascular disorders. Dr. Motew, originally from Chicago, received his undergraduate degree at Emory University in Atlanta. He returned to Chicago to complete his Medical Degree (M.D.), graduating with honors from the University of Illinois at Chicago. His initial experience with venous disorders and vascular disease occurred during surgical residency at The University of Illinois at Chicago. Dr. Motew returned to Winston-Salem to complete his fellowship in vascular surgery at Wake Forest University Baptist Health.
Technology Driven

Novant Health Vein Specialists is committed to always have the most advanced and modern technologies for our patients. We understand the importance of being on the cutting edge of new science and providing the best possible care for everyone who seeks care from us. This commitment underscores our mission to provide compassionate, and the most modern care.
Why should you care? Simply, the importance of a good diagnosis using modern, state-of-the-art ultrasound equipment is key in developing proper treatment solutions for our patients.
Vein Services Provided:
VenaCure Laser Vein Treatment
Sclerotherapy
Laser Sclerotherapy
Ambulatory Phlebectomy
Ligation and Stripping