The Finesse Surgical Solutions Difference

Finesse Surgical Solutions offers advanced treatments in state-of-the-art medical facilities owned and operated by trained vascular surgeons with additional training in the latest invasive and non-invasive procedures for treating diseases of the veins. Our staff of vascular specialists have extensive experience in treating varicose veins, reticular veins, spider veins and other unsightly, sometimes painful venous disease.

Excellent Care And Comfort

Finesse Surgical Solutions was designed to create a spa-like environment. Our experienced vascular surgeon and nurses is dedicated to excellent care and your overall comfort. We know how to put you at ease while recommending the best treatments for varicose veins, reticular veins and spider veins. Dr. Schlotter specializes in healthy and beautiful legs. He is certified by The American Board of Surgery and a Fellow of the American College of Surgeons.

Refer a friend, earn rewards!

With our Client Ambassador Program, everyone has the opportunity to earn money towards their own procedures!

To start earning, gift this printable certificate to your friends. They will receive a $100 discount for cosmetic services and you will receive a $100 credit towards the treatment of your choice. It's a win win!

* Restrictions may apply. See back of certificate for qualifications.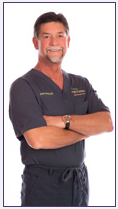 About James W. Schlotter, MD, FACS

Dr. Shlotter has specialized in general and vascular surgery since 1989. After graduating Summa Cum Laude from the University of Texas in 1976, he attended the University of Texas Medical Branch at Galveston, graduating in the top 10% of his class. Dr. Schlotter did post-graduate training at John Peter Smith Hospital in Fort Worth. He then completed a general surgery residency in 1989 and was a chief resident at The University of Texas Health Science Center in San Antonio.

Dr. Schlotter has a special interest in peripheral vascular surgery. He is Board Certified with the American College of Surgeons, a member of the American College of Phlebology and a Fellow of the American College of Surgeons. He is a native Texan and has been in private practice in San Marcos since 1992.
SCLEROTHERAPY

A simple injection may be all you need to be rid of unsightly or uncomfortable veins. This procedure, called sclerotherapy, can be used to treat spider veins and larger veins.

If sclerotherapy is right for you, the procedure should cause your veins to disappear or become much smaller Sclerotherapy may also be recommended for the treatment of larger reticular veins. Many different techniques and solutions are available, and the recommendations will be discussed with you at the time of your initial consultation

MINIPHLEBECTOMY

Miniphlebectomy is a procedure that can be used on small and large veins In this procedure, tiny pinpoint holes are made with a small needle. Using specialized instruments, segments of the vein can be removed through these openings. The tiny openings heal with nearly invisible scars that are quite cosmetically acceptable. You won't even have to wear stockings for an extended period of time with this procedure, which is done under local anesthetic with minimal down time.

TRANSCULTANEOUS LASER AND INTERMITTANT PULSED LIGHT (IPL)*

In some situations, spider veins and intermediate sized veins may be successfully treated in a comfortable and cost-effective way using a laser rather than chemical energy to achieve closure. Lasers with long and short wave length capability are available, allowing Veintec staff to treat superficial and deeper veins. Incidentally, these lasers also are useful for hair removal and removal of vascular and pigmented spots. These services are available at selected locations.

LASE *

Since 2001, we have used lasers for ablating large veins. The LASE procedure uses laser energy to obliterate the interior portion of the vein. This usually can be completed in the clinic, with local anesthesia and minimal discomfort and downtime. Most patients can drive themselves home. Support stockings are usually not needed. Veintec clinics have preformed more than 2,500 LASE procedures.

LIGATION

Some problems, such as large varicose veins, may call for ligation, a procedure in which the connections between the damaged veins and the normal vein systems are interrupted. Ligation is usually done under local anesthesia in an outpatient setting, often in combination with other procedures. Your initial consultation will give you and your physician an opportunity to discuss which treatment program may be best for you.