Capitol Vein & Laser is one of the busiest outpatient Vein Care Centers in the United States. Our offices are state of the art, including an accredited Ambulatory Surgical Center and Diagnostic Vascular Lab, offering the most advanced treatment options available today. All diagnostic testing and vein treatments are provided within our comfortable, welcoming environment. Our doctors frequently teach nationally and host visiting physicians seeking to observe our techiniques and methods. Our Clinical & administrative support team have tremendous expertise in vein care and endeavor to make every patient feel comfortable and welcome.
.
Dr. Paul McNeill graduated from Georgetown University School of Medicine and completed his surgery training at Medical College of Virginia. He is the co-director of Total Vein Care, a nationally recognized physician training program and has personally trained over 1000 physicians. "I truly enjoy my work in vein care. My extensive experience in teaching and performing thousands of the newest treatments developed for venous disease benefits my patients every day. It is important to me that my patients have comfortable treatments with minimal recovery requirements and effective results. There has never been a better time for my patients to move forward with vein care." Dr. McNeill is Board Certified in General Surgery & Vascular Surgery with expertise in venous disease. He is an active member of the American College of Phlebology & has multiple publications regarding vein care & advanced solutions.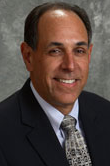 Dr. Garth Rosenberg completed his surgical residency at Medical College of Virginia and did his vascular surgery fellowship at Scripps Clinic in San Diego. He continued his advanced training at the Arizona Heart Hospital. Prior to joining Dr. McNeill in 2000, Dr. Rosenberg was on the teaching faculty at Temple University in Philadelphia and was chief of vascular surgery at Episcopal Hospital. Dr. Rosenberg"s long interest in venous disease led him to devote his entire practice to the treatment of vein problems. He has taught vein care on the local and national levels and has hosted physicians who have visited Capitol Vein and Laser to learn advanced vein techniques. Dr. Rosenberg is an active member of the American College of Phlebology.