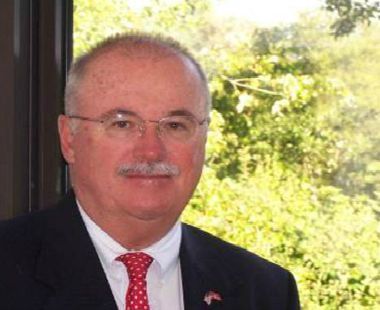 There are many instances when what may at first seem like a tragic event results in a new path that directs the course of one's life. As a junior in high school, Thomas O'Donnell, MD, fractured his femur playing football, and the orthopedic surgeon who treated him had such a profound impression on him that he knew he wanted to become a surgeon.
Dr. O'Donnell attended Harvard as an undergraduate, and returned there for an internship after completing his medical degree at Tufts University School of Medicine, where he served as the Student Council President his final year. Unbeknownst to him, this early exercise in political leadership would help serve him down the road when the trustees of Tufts-NEMC asked him to step into the role of CEO and President of the hospital during one of its most difficult periods.
Dr. O'Donnell has established himself as a trailblazer in the field of veins for his work on venous ulcers, including his recent co-authorship of the AVF guidelines for venous leg ulcers. He has been published in literally hundreds of articles including co-authoring The Relationship Between Post-Phlebitic Changes in the Deep Veins and Results of Surgical Treatment of Venous Ulcers in Lancet, and The Relative Importance of Incompetent Communicating Veins in the Production of Varicose Veins and Venous Ulcers in Surgery, two of the first articles to clinically show the effect of deep venous disease on superficial venous surgery. His contribution to The Effect of Elastic Compression on Venous Pressures in the Post Thrombotic Limb in JAMA detailed the effectiveness of stockings in reducing the level of ambulatory venous hypertension in the post thrombotic limb, and The Long-Term Results of Compression Treatment for Lymphedema in the Journal of Vascular Surgery proved the effectiveness of this treatment. His chapter contribution in the Atlas of Venous Surgery, Surgical treatment of incompetent communicating veins, described a different minimally-invasive surgical approach to the interruption of perforating veins using a laparoscopic approach that ultimately became the standard approach to SEPS. To try and list them all would negate the space necessary for our interview. Here is his story:
Tell us about your background at Tufts-NEMC, and your experience as the CEO. What was it like being in charge of a hospital at that time, especially with the rapidly changing landscape of healthcare at that time? What knowledge have you gained from that experience?
I was asked by the hospital trustees to become the CEO and President of our hospital in 1996, when our institution was grappling with financial problems and the loss of a major insurer. At that time I was the Chairman of the Department of Surgery and a key player in the physician practice group. The trustees recognized that physicians are critical to the success of a hospital and thus wanted a physician to lead from within, and they asked me. This is when most individual hospitals were joining systems, so the first action was to identify and merge with a hospital system that was compatible with our mission and culture, which we did after a deliberative process.
Besides developing strategic and operational plans, as well as improving financial outcomes, the greatest and most frequent challenge was dealing with interpersonal relationships—people's aspirations, perceived wrongs and misadventures. This is not unique to being a CEO, but is part of the skill set that one develops dealing with patients, other paramedical personnel, and as chairman of a department of surgery.
Co-authoring and serving as the Chairman for the Clinical Guidelines for SVS and AVF: Management of Venous Leg Ulcers must have been a monumental undertaking. Can you share your experience with us and the effort put forth in collaboration and cooperation?
It was an honor to be chosen to chair The SVS / AVF Joint Clinical Practice Guidelines Committee – Venous Leg Ulcer, which arose from the Sixth Pacific Vascular Conference, and whose goal was to decrease the incidence of venous ulcer by 50% over the next decade. One of the deliverables coming out of that AVF-sponsored meeting was to develop guidelines for VLU. My co-editor of the guidelines, Marc Passman, was indispensable to the process.
Having done a previously published systematic review of all existing VLU guidelines, I was familiar with the broad categories of such a guideline and the "knowledge gaps" of those existing VLU guidelines. Treatments by catheter-based techniques, such as endovascular ablation or stenting of the outflow track, were not covered in previous guidelines. In addition, we felt that the target audience should be specialists—vascular surgeons, interventionalists, phlebologists, and those specialists who treat wounds.
The writing groups were organized into six sections, each headed by a section leader. Each group was responsible for performing a review of both the literature and existing guidelines within their respective area. As part of that process we determined that surgery/endovascular treatment and compression should undergo a special systematic review and meta-analysis by the Mayo Group. We met frequently via telephone conference calls and the committee worked hard to deliver a completed set of guidelines within a very short period of time.
One of the unique features of the SVS/AVF set of guidelines was that we sought endorsement of these guidelines from other societies that deal with VLU. The American College of Phlebology and the International Union of Phlebology submitted questions prior to publication, to which we responded and modified where appropriate. In addition, the American College of Wound Healing Board of Trustees endorsed the guidelines after publication.
"I have been associated with the training of vascular fellows since 1976, when I started practice at Tufts Medical Center with Allan Callow and the late Ralph Deterling—two pioneers of vascular surgery."
How have the AVF and SVS evolved since your time as President?
I was fortunate enough to be elected President of the American Venous Forum for the 1998-1999 term, and the Society for Vascular Surgery in 2001, prior to their merger with the International Society for Cardiovascular Surgery.
It is important to understand the tremendous expansion of venous techniques and the growth in the AVF membership over the 15 years since I was president—the membership at that time was somewhat "clubby" at around 300, and since then has doubled in size. The Postgraduate Course at the 1999 annual meeting, which mirrors contemporary treatment, focused on thrombolytic therapy, SEPS, deep venous reconstruction for reflux, and "venoplasty and stents" for occlusive disease.
The fundamental issue for the AVF executive committee in the late '90s was the financial viability of the society. This situation stabilized with the expansion of membership and increased financial support from industry. We had fewer committees then—membership, program, bylaws, finance and nominating. This is in contrast to today's four councils, with 16 committees underneath them.
I have watched these two societies evolve into larger organizations. While the AVF is specific to venous and lymphatic disease, the SVS does feature venous disease prominently at their meetings.
Are there any other organizations you are highly active in?
When I became involved in venous disease over 40 years ago, there were only a few procedures available to the surgeon: ligation and stripping, phlebectomy, Linton flap for perforators, and open clipping of the inferior vena cava. With the advent of minimally invasive techniques such as thermal ablation as an office-based procedure, both the AVF and the field have exploded as the sub-specialty expanded beyond surgeons in the US. This growth has led to venous disease being featured at annual national and regional vascular meetings as well as stimulating the development of free-standing symposia. Certainly, the VEITH Symposium, which now devotes two days minimum to venous-related topics, is an excellent example of this growth.
There are a number of regional vein symposia as well. The International Vein Congress typifies a symposium that provides cutting edge concepts and techniques. Finally, I am most proud of participating in the initial series of vascular fellows courses in venous disease started by Steve Elias at Englewood Hospital.
As a more senior member of the various societies, I enjoy attending the SVS, New England Society for Vascular Surgery and the Boston Surgical Society; I am still active in the AVF with the Venous Ulcer Committee and serve on the American Venous Forum Foundation Board. With my interest in wounds I am on the board of the American College of Wound Healing and Tissue Repair, whose annual meeting is in December.
I know that mentoring plays a large part in your career. Can you share some of your experiences with us?
I have been associated with the training of vascular fellows since 1976, when I started practice at Tufts Medical Center with Allan Callow and the late Ralph Deterling—two pioneers of vascular surgery. A vascular fellowship is different than a surgical residency, because there is usually a closer relationship between the one or two fellows and the vascular staff. Here, mentoring is critical.
Since that time 39 vascular fellows have graduated from our program. Several have maintained a particular interest in venous disease: David Rosenthal (Georgia Baptist-Atlanta) with bedside ultrasound guided insertion of a caval device and the absorbable vein filter; Scott McEnroe (Vein Center of Virginia) with his founding one of the first free-standing vein centers in Virginia; Sean Roddy (Albany N.Y.), detailing the finances of vein treatments; Judy Lin (Henry Ford), who regularly publishes venous-related articles with her colleague and our former fellow, Alex Shepherd: and of course Harold Welch (Lahey Clinic) whose prospective comparative studies of APG, photoplethysmography, and duplex scanning is a classic.
Mark Iafrati, Chief of Vascular Surgery at Tufts, has continued our unit's focus on venous disease, as my collaborator and co-author on numerous papers. I still enjoy teaching the fellows, and especially working with them on research projects.
What do you see as the next frontier in venous disease treatment?
I believe that the management of infrainguinal deep venous disease will be a focal point; the development of an endovascular approach to valve creation for reflux and better catheter-based treatment of occlusive disease. We all await the results of the ATTRACT Trial, which has the promise of revolutionizing the treatment of acute DVT through evidence-based results.
What do you do in your spare time when you are not a surgeon?
I played a lot of tennis during my busy clinical years. It takes about one and a half or two hours, so I would routinely play early on weekends, prior to making rounds. Competing in USTA tournaments I felt that I had an advantage gained from the concentration required in surgery. For the last 10 years, I have played a great deal of golf, but I have the highest handicap in the family. My wife, two sons and their wives are all single digit golfers. I really enjoy being present at my six grandchildren's events.
Is there anyone in particular you would like to acknowledge who has been a significant force in your professional and/or personal growth?
During my residency I spent a year and a half in George H.A. Clowes' research lab, and he helped me to foster a pathophysiologic approach to disease. Bill McDermott, our chairman, was a role model for how to lead a surgical unit and to treat patients, while keeping a place for those of us who went away to serve in the military.
During my post residency fellowship at St. Thomas' Hospital London, Sir Norman Browse was responsible for sparking my interest in venous disease, not only teaching me the scientific method, but also to write scientific articles more clearly. Through Professor John Kinmonth, the world's leading authority on lymphatics, I developed a lifelong interest in lymphedema. During my vascular fellowship at the MGH the late Clem Darling gave me great independent responsibility with 'Dr. Austen's residents,' and refined my vascular surgical skills. This sequential mentoring was critical to my career, and as such re-emphasizes the importance of mentoring in a surgical career. It is essential.
It is fortunate for many that Dr. O'Donnell chose to specialize in vascular surgery and commit his career to the treatment of venous disease. This is evidenced in many ways, including the fact that the same orthopedic surgeon who fixed Dr. O'Donnell's leg as a young man sought him out years later to treat his abdominal aortic aneurysm. For everyone in the field, Thomas O'Donnell's pioneering work in advancing phlebology has made a profound impact.